~this article is not translated to Dutch yet~
I believe I ate fava beans the entire summer. Every day. Just cold with nothing added or prepared like in the recipe below. It doesn't just look good, I can tell you that.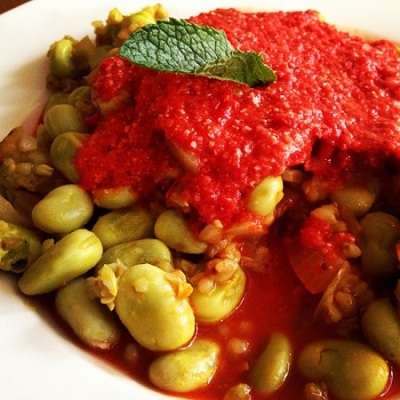 Only after reading Dan Buettner's book The Blue Zones you will probably realise how healthy these beans actually are. On the Greek island of Ikaria, a number of people live to be 100 years or older. And guess what? Sardinians eat a plant-based, bean rich diet consuming large quantities of dark red wine, barley and fava beans.
Health benefits
source of dietary fiber & protein
contains antioxidants, vitamins and minerals
good source of folate
contain vitamin K and vitamin A. (source)
According to a study published in 2010 in the "European Journal of Clinical Nutrition," overweight /obese persons following a calorie-controlled, high in protein and high in fiber diet lost more weight than those on a standard high-carbohydrate and low in fat diet. Persons on the high-protein, high-fiber diet not only lost more body weight and total fat, but they also had a lower total cholesterol and LDL cholesterol levels. So with their combined protein and fiber content, fava beans can help with weight loss. Tuinbonen in tomaten kurkuma saus
---
Een kopje boekweit;
Een ui;
Zout en peper en wat kurkuma;
Voor de saus heb je nodig
Twee (zoete) rode paprika's;
Een tomaat;
Een lepel kokosolie;
Kruiden zoals peterselie;
Citroen sap (halve citroen);
Wat munt blaadjes;
Appelazijn;
Een teentje knoflook;
Zout en peper;
---
Instructions
Om te beginnen spoel je de boekweit met water af alvorens je deze kookt (een kopje boekweit op twee kopjes water).
Kook de tuinbonen ondertussen in wat water.
Snij de ui fijn.
Om de saus te maken plaats je alle saus ingrediënten in een blender. Voeg wat olijfolie toe of appelazijn als dit nodig is of wellicht wat water als de blender moeite heeft met blenden.
Wanneer de boekweit en tuinbonen klaar zijn met koken is het tijd om de ui te bakken in wat kokosolie totdat ze goudbruin zijn. Dan voeg je de tuinbonen (eerst afgieten natuurlijk) en boekweit erbij. Voeg wat meer kruiden en specerijen toe als je dat lekker vindt. In dit recept heb ikw at zout, peper en kurkuma gebruikt. Je kunt ook gember toevoegen.
Vervolgens plaats je alles op een bord en bedek je de tuinbonen en boekweit met de saus. Enjoy!!
---